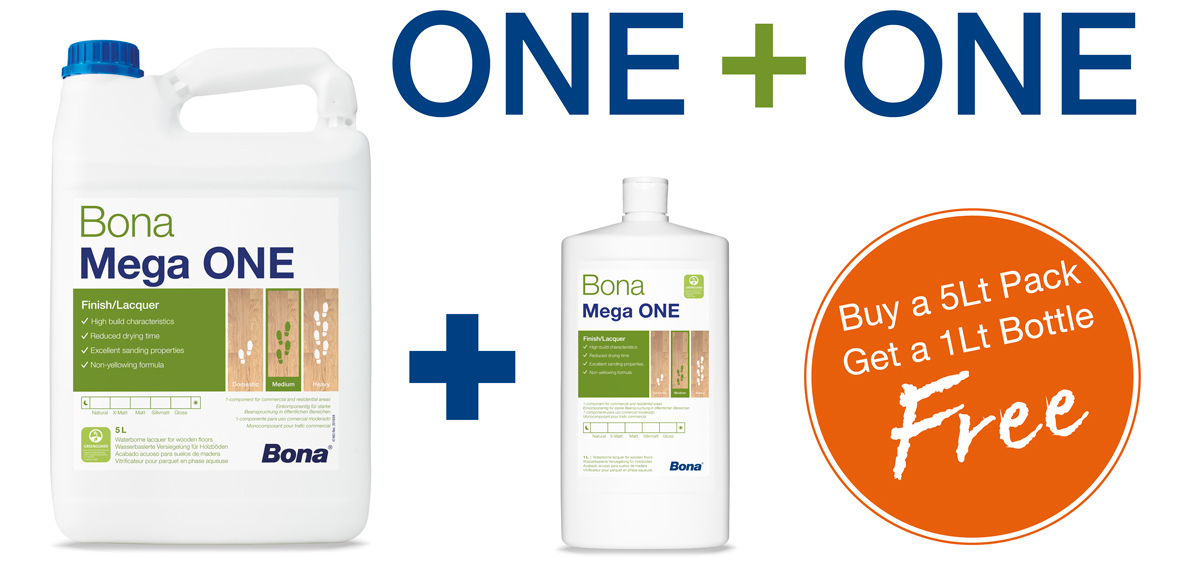 Mega ONE + ONE
Buy a Bona Mega ONE 5Lt Pack Get a 1Lt Bottle Free
Introducing Bona Mega ONE, the next generation 1k finish that delivers 2k results.
To celebrate the launch of the Mega ONE, for a limited time we are offering a Free 1Lt Bottle with every 5Lt Mega ONE Pack purchased. Offer available at Bona Distributors nationwide.
Quick to dry, easy to abrade, excellent build characteristics and with no mixing required, Bona Mega ONE delivers speed, simplicity and a fantastic result in a 1k finish for contractors and floor owners in need of durable everyday floor protection. Mega ONE brings out a nice, warm wood colouration while establishing a long-lasting protection for timber floors in domestic and medium wear commercial environments.
One-component, no need for a hardener
Performs like a two-component
One hour dry time (in ideal conditions)
Non-yellowing
High build characteristics
Mega ONE + ONE Promo Offer applies while stocks last to purchases made between 1st July - 31st August 2019
More about Bona Mega ONE
Download ONE + ONE Promo Flyer